Alana & Anthony
Alana & Anthony
Posted on Wednesday, February 3rd, 2016 at 4:22 pm by Administrator
Alana and I met one fun-filled and fateful night in February seven years ago, and we have had a solid loving bond ever since. I was up visiting Asheville for the weekend, watching a cover band at a downtown bar when we first struck up a conversation. Although there was an instant connection, we wondered how we'd be able to have a lasting relationship while living four hours apart. At first our visits were monthly, then bi-weekly and then nearly weekly. And in time, despite the distance, our connection drew us closer and closer. In a now-treasured notebook, I meticulously documented the details of every visit. After close to four years and exactly 100 visits later, I was finally able to convince Alana to move to Raleigh. (Trust me: we love Asheville and continue to visit as often as possible. Her sister lives there).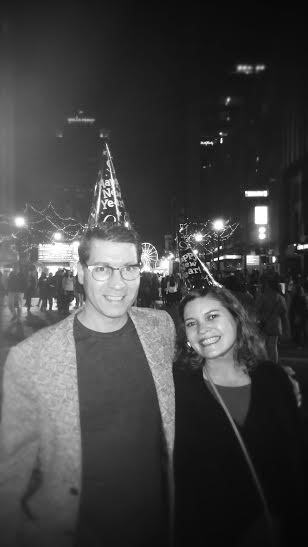 The transition was easy and natural. Being in the same town gave us a chance to spend more quality time together. We lived in an apartment at first and then moved into a house. Each day brought us closer and closer. We continued to fill our days and nights with fun outings and romance. The stars were aligning as our connection strengthened. We teased friends with false announcements of "big news", only to explain jokingly they had misunderstood, we had decided to buy a couch together. Finally, we tested our increasing compatibility by bringing home a kitten, Nigel, to meet Alana's adult cat, Mallory. There have been more than a few hisses, but overall it helped seal the deal on our happy home.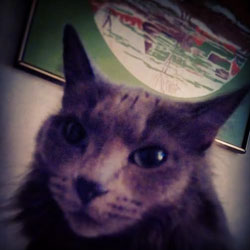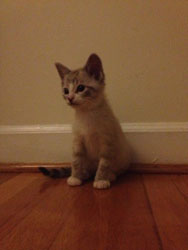 Although I knew we were ready for the next step, I worried about the ring and the details of a proposal. I knew Alana wanted a vintage ring to reflect her classic tastes and to represent our timeless love. I knew first and foremost she wanted to be surprised by both the ring and the proposal. I did my best to pick up hints and then started my search for the perfect ring. After looking through the images on Joint Venture Jewelry, I quickly was enchanted with the beauty of art deco jewelry and narrowed my search to one specific piece. The ring was indeed one of a kind. I decided to stop in and take a peek.
Over Christmas 2015, we planned a trip to New York City. It was supposed to be a mutual gift to each other, but secretly I pondered where best to propose and how best to sneak the ring past airport security. On Christmas, we made the most of the day starting with a quaint and delicious breakfast in Chelsea. We then went on a leisurely walk through Greenwich Village and lower Manhattan, making our way to Battery Park to ride the Staten Island Ferry. We next went for a walk on the Brooklyn Bridge and then later enjoyed dinner off Broadway.
At each destination I kept fiddling with the ring hidden in my pocket, hoping for some inspirational cue for the right moment. I wanted to make sure it was memorable and, of course, romantic. As the clock approached midnight, we made our way to Rockefeller Center. Tourists lined the busy sidewalks. Holiday lights and camera flashes swirled in the unseasonably warm air. The excitement was palpable and the goodwill even among strangers, infectious.
This was it, the moment felt right. I suggested we walk over to a relatively crowd-free part of the sidewalk. I got down on one knee, first taking a few pictures of the art deco skyscraper at 30 Rockefeller. After a few non suspicious snapshots, I pulled the ring from my pocket. I asked her if she'd like to marry me and then proceeded to put the ring on her right—whoops, LEFT hand ring finger. She was instantly overwhelmed with emotion, crying we embraced and kissed, and then, holding back tears she said YES! She also immediately LOVED her ring! After savoring the moment and a taking a few more pictures, we walked back to the hotel arm in arm.