Custom Jewelry Show
Custom Jewelry Show
Posted on Tuesday, March 1st, 2016 at 1:21 pm by Jen

Joint Venture Jewelry will host its annual Custom Jewelry Show March 9 -19. We'll have hundreds of mountings in store for a limited time only! If you have jewelry that's seen better days – or you're just ready for a new look – this is an excellent opportunity to find your ideal setting and bring new life to your old rings! In addition to rings, we're happy to convert rings to pendants, pendants to earrings and everything in between. Our expert jewelers are standing by during our Custom Jewelry Show to work with you to create the perfect customized piece of jewelry you've always dreamed of having!

With the help of computer-aided design, wax molds, unique settings and hand engravers, we are confident our jewelers will be able to satisfy any of your custom jewelry desires! This show is open to the public but we encourage you to call and make an appointment for a free consultation about your jewelry design. Plus we're offering 20% OFF show specials!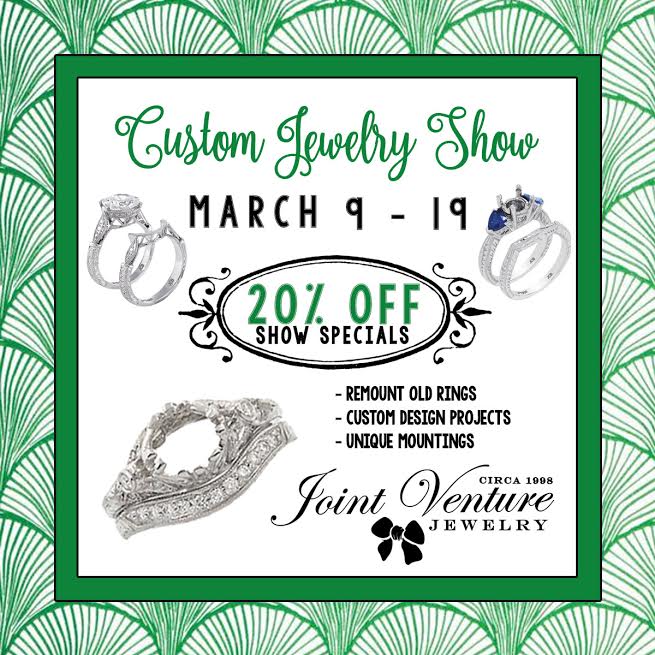 Remounting your old stones in a new setting is by far the smartest and least expensive way to update your jewelry collection. Bring in that old ring in need of a makeover and turn it into a fabulous fashion statement! We will even apply any old, broken or scrap gold towards your new jewelry project.
Why come to our Custom Jewelry Show?
1. You have inherited some outdated jewelry and you want to create an updated look
2.You have old stones you want remounted into new settings
3. Make your current jewelry look brand new again
4. Update a family heirloom
5. Design your own engagement ring
6. Upgrade your current wedding set
7. You are ready to change your yellow gold setting into a white gold or platinum mounting
8. You have worn, thin ring shanks or old, loose prongs needing restoration
Even if you don't have a stone you want to remount, you're not excluded from this event. Our show specials include several dozen loose gemstones from Morganite to Umba Sapphire to Citrine and beyond! These gorgeous gems vary in cut with Marquise, Trillion, Oval and more to choose from. Carat weights range from around 0.25 carats to 4.00 carats, which provides a variety of price points to fit anyone's budget. You'll have to see these beautiful stones in person and match them with the perfect mounting to create the jewelry of your dreams.