Holiday Wishlist Party 2016
Holiday Wishlist Party 2016
Posted on Sunday, November 27th, 2016 at 6:26 pm by Jen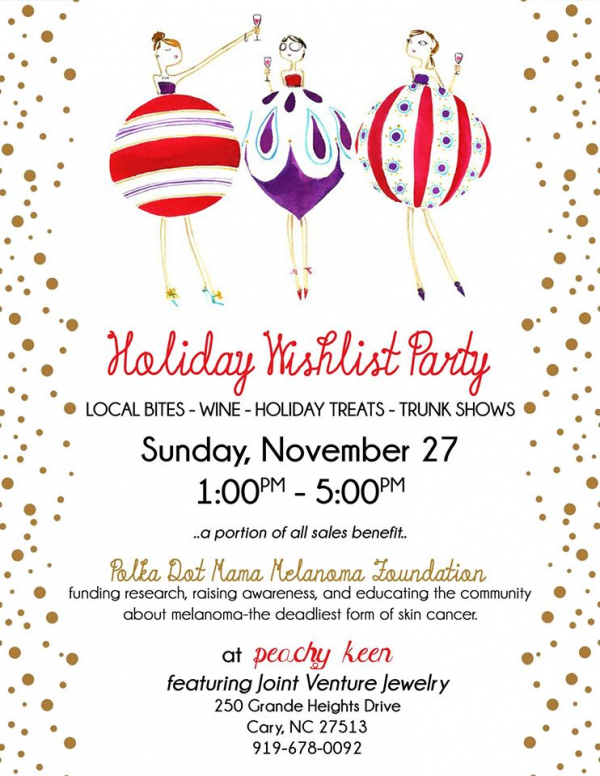 Join us for our annual Holiday Wishlist Party Sunday, Nov. 27 from 1pm to 5pm.
Come out and find this year's most coveted gifts and create a Wishlist to share with your loved ones this holiday season! While you shop, indulge in the holiday cheer with a glass of wine and delicious holiday treats from local baker, Baked By Billie! The best way to ensure you get exactly what you want this holiday, is to put a wishlist together of your favorite items at Joint Venture Jewelry and Peachy Keen. Once the wishlist is complete, we'll take care of informing your gift giver of your preferences!
Shop With A Purpose! A percentage of proceeds from purchases made at the event will be donated back to Polka Dot Mama. The Melanoma Foundation funds research, raises awareness and educates the community about melanoma – the deadliest form of skin cancer.
Can't make it to our Wishlist Event? Have no fear, we're accepting Wishlist's ALL NOVEMBER! Stop by anytime and let us know you'd like to make a Wishlist and our expert staff will be happy to help you select your favorites!