Khishaana & Christopher
Khishaana & Christopher
Posted on Wednesday, July 30th, 2014 at 10:51 am by Administrator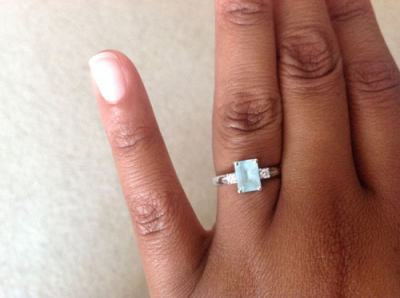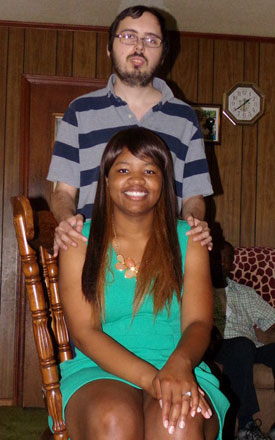 From the moment I met Christopher, I knew we would spend the rest of our lives together! I also knew when it was time to find "the ring,"I didn't want a traditional diamond engagement ring.
My heart was set on an aquamarine for my engagement ring, since my mother and grandfather were born in March. There was no doubt, aquamarine was perfect for me! After some online searching, I found Joint Venture Jewelry and I began browsing their website. After looking through a few pages, there it was, my aquamarine ring! We wanted to look at the ring in person, so we planned to stop by the store Saturday afternoon.
Once arriving at the store and slipping the ring on my finger, I KNEW this was my ring! Not only was I excited to have found my engagement ring, but Christopher was also blown away that the ring was well within his budget. Even though we found the ring, Christopher still wanted to build in an element of surprise for the proposal.
Christopher made a deposit on the ring, deciding to return and pick it up without me so he could plan the perfect proposal.
Christopher and I were sitting on the couch watching t.v. when he got up and walked out of the room. When Christopher returned, he dropped down on one knee and asked me to be his wife! Of course I said YES! Soon after Christopher proposed, we traveled to Jacksonville, NC to share the exciting news and celebrate with our families.
Thank you again for my gorgeous engagement ring and we look forward to spending our lives together!