Mother/Daughter Bling, Baubles & Bubbly Party
Mother/Daughter Bling, Baubles & Bubbly Party
Posted on Sunday, May 1st, 2016 at 1:23 pm by Jen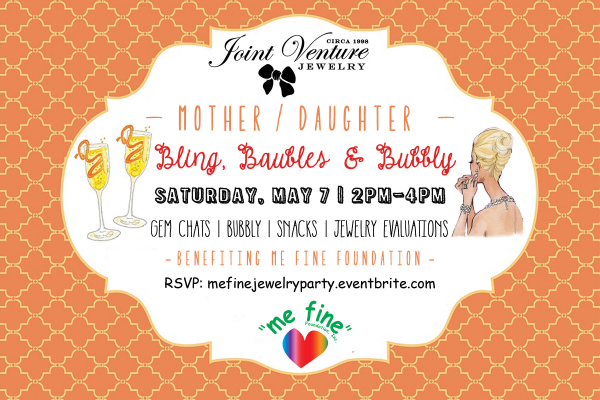 You are cordially invited to Joint Venture Jewelry's Mother/Daughter Bling, Baubles & Bubbly Party! In celebration of Mother's Day, we invite Mothers and Daughters (husbands & boyfriends welcome as well) to enjoy a Saturday afternoon with fellow jewelry lovers for Gem Chats, Bubbly, Snacks, Silent Auctions and more benefiting Me Fine Foundation!
Reserve your FREE seat today as space is limited!
All proceeds from silent auction items and a portion of sales will be donated to Me Fine Foundation. Me Fine Foundation provides hope to critically ill children treated by Children's Hospitals in North Carolina and their families through financial assistance, emotional support and necessary resources, regardless of race, diagnosis, religious affiliation or economic status.
Guests are encouraged to bring in their heirloom jewelry baubles as we'll have time for one-on-one complementary consultations! Joint Venture Jewelry is an all consignment jewelry store specializing in estate and vintage jewelry. Gather your jewelry you are no longer enjoying for possible consignment or anything in your jewelry box in need of repair or restoration!