Stephanie & Danny
Stephanie & Danny
Posted on Tuesday, February 10th, 2015 at 10:27 am by Administrator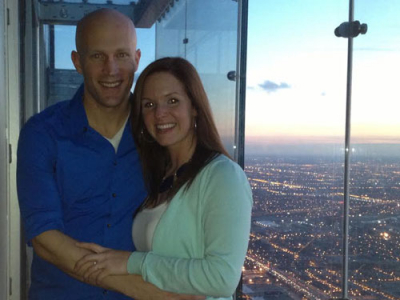 Like all good love stories, Danny & I met on Match.com. We knew from the start our connection was special and our interests paralleled like no one else we'd ever met.
Our first date lasted an incredible 11 hours! On August 15th, 2009, we met near my apartment in Chicago, Illinois (don't worry, I didn't let him in!). It started with a train ride to downtown… then a walk through the Art Museum… then more walking through Millennium Park. For hours, we kept walking and talking and learning more about each other... We ended up walking 2 miles to have dinner at Adobo Grill. We then stopped by my pottery studio to pick up some finished pieces…bought a bottle of wine to share on the deck outside my apartment… then overheard some nearby music and decided to follow it. We soon found ourselves at a local festival where we danced inside a crowd of people listening to an 80's cover band. Three bar stops later we shared the best first kiss ever! No, really – ever!
After 3½ years of dating and 4 shared apartments in 3 different cities on 2 different contents', Danny chose to propose on February 1st, 2013 in the place where it all began - Chicago. We were there visiting both his family and mine. As with any trip home, we always try to plan a day in the city. For this trip, unlike any other, Danny planned our entire day from start to finish. Similar to our first date, we shared a delicious lunch at a fantastic Mexican restaurant (our fav). Took a walk through Millennium Park. Wandered through the Art Museum. Then made our way to the Willis Tower Skydeck (the 2nd tallest building in the US). Danny had reserved a VIP overlook window on the 103rd floor. With our favorite city below, he got down on one knee & asked me to spend my life with him! To top it off, we were welcomed home with an amazing surprise party! As if the proposal wasn't special enough, he knew my favorite way to celebrate would be with family and friends.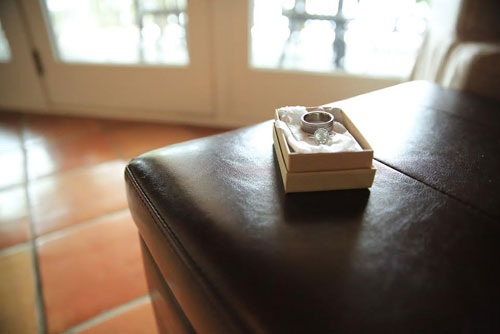 My engagement ring is very special. Danny chose an estate green amethyst from our favorite local jeweler - Joint Venture Jewelry. I didn't want a diamond or brand new ring or anything special made for me. I wanted something pre-owned. Something with character. And this suits me perfectly!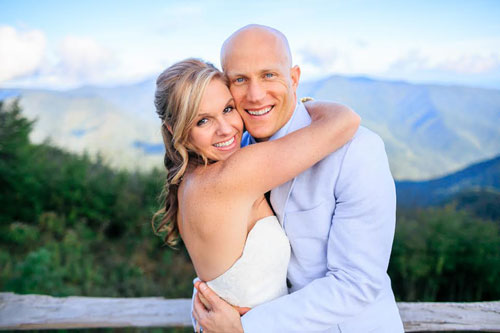 Danny & I got married on September 27th, 2015 in the mountains of Asheville, NC. It's our favorite place to vacation and explore. We chose to have a Green Wedding. Each and every detail was planned with a great amount of care and consideration. We were excited to share a bit of ourselves, and what's important to us, with everyone we love. Our family and close friends joined us for an unforgettable day of celebration. It ended up being a beautiful and sunny day – the perfect day to marry your best friend!