Which Engagement Ring Style Is Meant for You?
Which Engagement Ring Style Is Meant for You?
Posted on Thursday, August 18th, 2016 at 12:37 pm by Administrator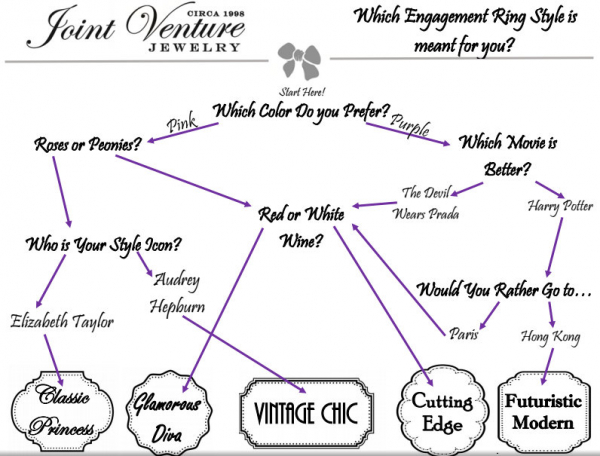 Ever wonder what style engagement ring you are meant to wear? Time to find out!
Which style were you lead to? Find out what each style means below, pictures included!
Classic Princess
---
Hello beautiful! Your engagement ring style is soft, subtle, timeless, and elegant. You, Michelle Obama and Princess Kate would be the best of friends! Wearing your classic solitaire or sapphire enhanced beauty shows off your fashion sense and lifestyle of elegant dresses and fun dinner parties!
From Left to Right: 1.31 Carat Princess Cut Diamond Ring | 0.70 Carat Emerald Cut Diamond Ring | 1.40 Carat Sapphire and Diamond Ring | 1.02 Carat Cushion Cut Diamond Ring | 1.00 Carat Round Cut Diamond Ring
Glamorous Diva
---
"Diamonds are a girls best friend!"... especially when they are larger than life! You, my dear are a capital "D"iva! The engagement ring for you is sparkling with large diamonds and fancy cut stones! You prefer to have windblown hair from a ride in your convertible as you make your way to Joint Venture Jewelry and you always have your nails done! Beyonce would be proud to see you wear that fabulous ring! Rock It!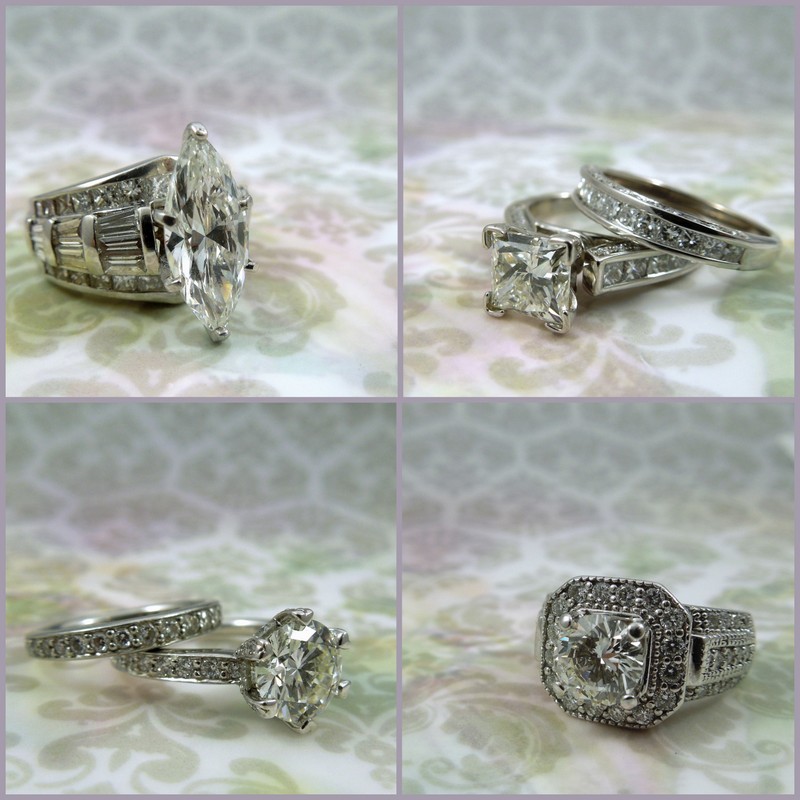 Top From Left to Right: 2.63 Carat Marquise Cut Diamond Ring | 1.77 Carat Princess Cut Diamond Wedding Set
Bottom Left to Right: 2.05 Carat Round Cut Diamond Wedding Set | 1.33 Carat Flawless Diamond Ring


Vintage Chic
---
Take a step back in time because you are vintage chic! The only ring for you was cut in the late 1800's and has all the character in the world. You prefer to have hand cut filigree work that shows how you take your time in life to enjoy the little things. You share the same taste as the beautiful Scarlett Johansson as well as Adam Levine's wife & Victoria's Secret model, Behati Prinsloo. Elegance and uniqueness is key to the life you live! Embrace it!

Left: Vintage Euro Cut Diamond Ring Right: 0.85 Carat Euro Cut Diamond Ring with Accent Sapphires
Cutting Edge
---
Different, non-traditional, you're cutting edge when it comes to style. Rubies, sapphires and colored diamonds are meant for your ring finger! Wearing snazzy clothes and jewelry is your passion and should also be for your engagement ring. Ongoing trends are of little interest to you because cutting edge girls make up their own rules!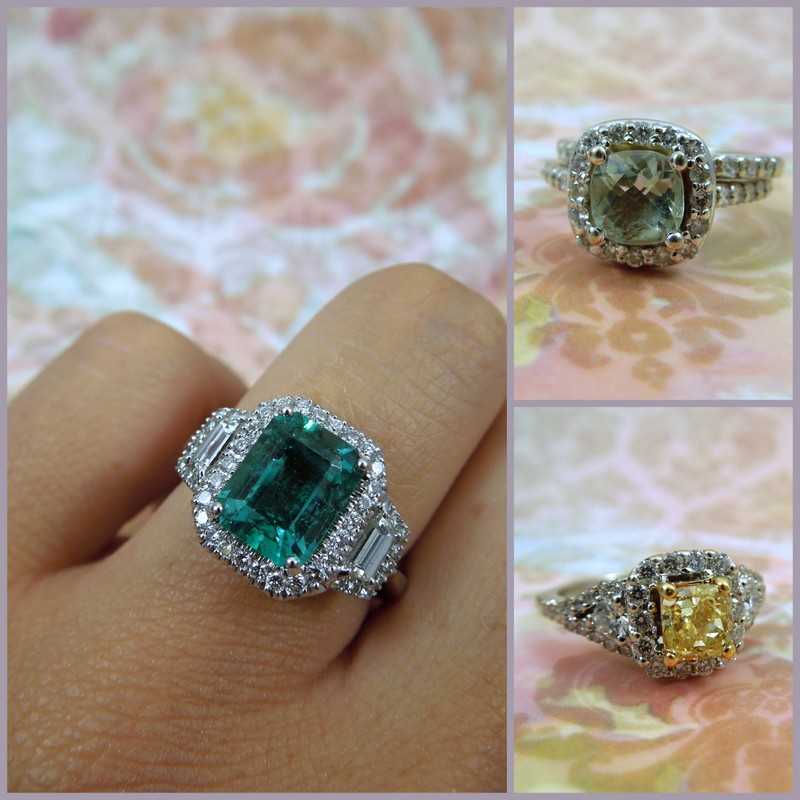 Left: 2.18 Carat Beryl and Diamond Ring ' Top: 0.84 Carat Green Amethyst and Diamond Set Bottom: 0.73 Carat Fancy Yellow Diamond Ring
Futuristic Modern
---
Time to look at the classic engagement ring in a new and modern way. Your futuristic characteristics have lead you to the perfect ring. Taking the traditional solitaire and incorporating sleek lines and simplistic style is exactly what you need. You've always been a trend setter! Instead of a solitaire stone, try stackable rings! Times are changing...because of you!
Left to Right: 0.35 Carat Diamond Ring | 1.02 Carat Diamond Ring in Yellow Gold | 1.10 Carat Diamond Ring
Time to start shopping for your style! Stop by Joint Venture Jewelry anytime and we would love to help you find the perfect ring for you!